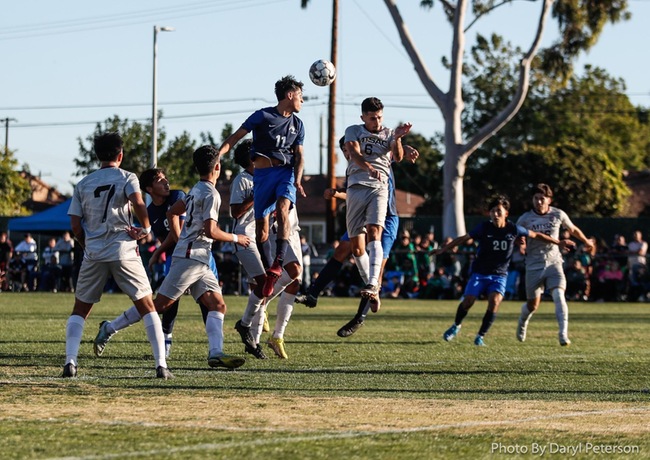 (Norwalk, CA) There's a saying that goes, "the third time's a charm." Such was the case for visiting Mt. San Antonio College (16-6-2) as the Mounties handed top seed Cerritos College (21-1-2) its first loss of the season, a 1-0 double overtime decision in the fourth round of the California Community College Athletic Association Southern Region playoffs on Saturday, Nov. 26. The Falcons had won the previous two games between the teams this season.
"It was great to get the win. We got the one that matters," said Mt. SAC head coach Juan Sanchez, who was 43 miles away coaching the Mounties' women's team in its playoff game at Chaffey College. In Sanchez's absence, three Mt. SAC assistants—Ray Ramirez, Mauricio Barrett, and Alex Sanchez—coached the men to victory.
"I'm blessed to have great assistant coaches in this program," said Sanchez. "The [men's team] was prepared … to beat the number one team. These games come down to who wants it more."
The game's only score came early in the first of two overtime periods (91:41) when the Mounties' Edward Castro played a through ball to Alex Mendez, who beat the first defender and then put the ball in the net from the left side with his left foot.
Goalie Jacob Cardenas played all 120 minutes in goal for Mt. SAC, holding the highly touted Cerritos offense scoreless with three saves.
Speaking of his team, Sanchez added: "This group of young men has struggled all season. This team is awkwardly different. I told them that's what makes [our team] special."
With the win, the Mounties advance to the CCCAA State Championships at American River College in Sacramento where they will first face either Merced College (17-3-3) or Taft College (16-3-3) on Friday, Dec. 2, for a spot in the state title game on Sunday, Dec. 4.
This is the third straight trip to the state championships for the Mounties, who won it all last season with a 2-1 win over Hartnell College.
Follow Mt. SAC Men's Soccer on Twitter @MtSAC_MSoccer
Follow Mt. SAC Athletics on Twitter @MtSAC_athletics or Facebook @Mountie.Athletics
For additional information, please contact the Mt. SAC Sports Information Office at 909.274.4630.