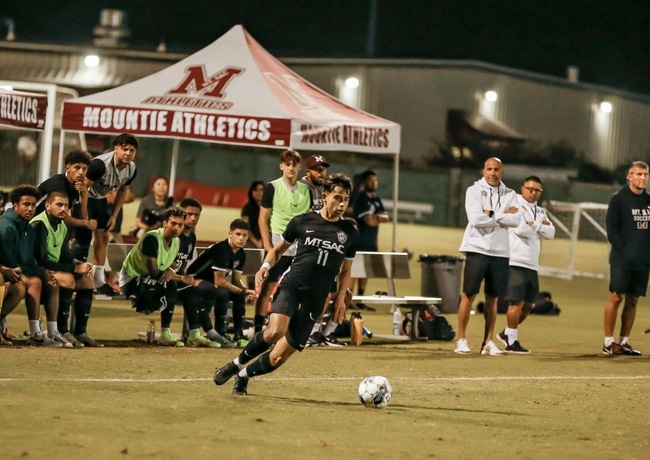 (Pasadena, CA) Alex Mendez and Edward Castro each scored two goals for the Mt. SAC Men's Soccer team on Friday (Oct. 21), leading the Mounties to a 7-1 South Coast Conference North win.
The seven goals are the biggest scoring output since a 2019 game in a 7-1 win over American River College. In the last two games, Mt. SAC has scored 13 goals.
Mendez, who leads the team with 11 goals, is fifth in the state in points (31) and eighth in the state in scoring, scored consecutive goals in the first half and in the first minute of the second half.
Castro, who is third on the team in scoring with eight goals, opened the scoring for the Mounties in the seventh minute and scored in the 67th minute for the 5-0 lead. He also had an assist on Mendez's second goal.
Mt. SAC (12-4, 4-2), ranked fifth in the state in the latest CCCSIA poll (Oct. 18), also received single goals from Andrew Vazquez, Ernesto Figueroa-Lopez and Ivan Morales.
On Castro's first goal (assist Vazquez) giving the Mounties a 1-0 lead, he scored on a breakaway cross in the box.
Mendez's unassisted goal for the 2-0 lead came off a penalty kick in the 34th minute. That was followed by Mendez's second goal in the opening minutes of the second half was a hard shot from 15 yards out into the right corner of the net for the 3-0 lead.
Vazquez gave Mt. SAC the 4-0 lead on a shot off a penalty kick in the 58th minute. It was unassisted.
Castro scored on a breakaway in the 67th minute and shot into the left corner for the unassisted goal, giving the Mounties a 5-0 lead.
Figueroa-Lopez, on an assist from Abel Salazar and Jason A. Garcia, scored off a rebound for the sixth goal in the 77th minute.
Morales' goal (Ricardo Guillen) came off a re-direct from a cross for the seventh score for the Mounties in the 84th minute.
PCC broke the shutout in extra time, scoring on a free kick from 11 yards.
Mt. SAC continues SCC play on Tuesday (Oct. 25) at El Camino.
Follow Mt. SAC Men's Soccer on Twitter @MtSAC_MSoccer
Follow Mt. SAC Athletics on Twitter @MtSAC_athletics or Facebook @Mountie.Athletics
For additional information, please contact the Mt. SAC Sports Information Office at 909.274.4630.