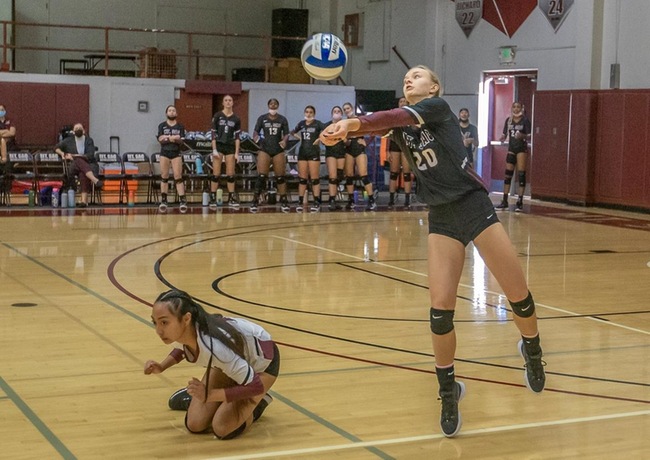 (Compton, CA) The Mt. SAC Women's Volleyball team rebounded after a tough loss to Pasadena City College last week and swept Compton College in two matches Monday evening in South Coast Conference action, 3-0, 3-0 at Compton College.
With the two wins, the Mounties upped their overall record to 14-5 and 8-3 in the conference. Both matches were rescheduled from previous dates.
The Mounties were never threatened as they won their first match with scores of 25-7, 25-7, 25-6, and the second match, 25-7, 25-4, 25-10.
In the first set, Michelle Walters led the Mounties with seven kills, along with Raeven Pugh and Savanna Corrales (4 Digs, 3 Service Aces) with five kills each. Setter Kylie Rhodes had 12 assists and Alyssa Aleman added seven.
Libero Bristol Christelman (2 SA) led had five digs.
In the second match, Walters again led the Mounties with nine kills, followed by Pugh and Aubrey Martinez (5 D, 3 A, 1 SA) with six kills each. Corrales (2 SA, 1 D, 1 SA) added four kills.
Rhodes (4 D) led with 11 assists, along with Aleman (2 D) with 10.
Christelman (4 SA) had a team-high nine digs.
Aleman and Rhodes had seven and six service aces, respectively.
As a team, the Mounties had a season-high 22 service aces.
Mt. SAC continues conference action with a home match against L.A. Harbor Wednesday (Oct. 27).
Follow Mt. SAC Women's Volleyball on Twitter @MtSAC_WVB
Follow Mt. SAC Athletics on Twitter @MtSAC_athletics or Facebook @Mountie.Athletics
For additional information, please contact the Mt. SAC Sports Information Office at 909.274.4630.