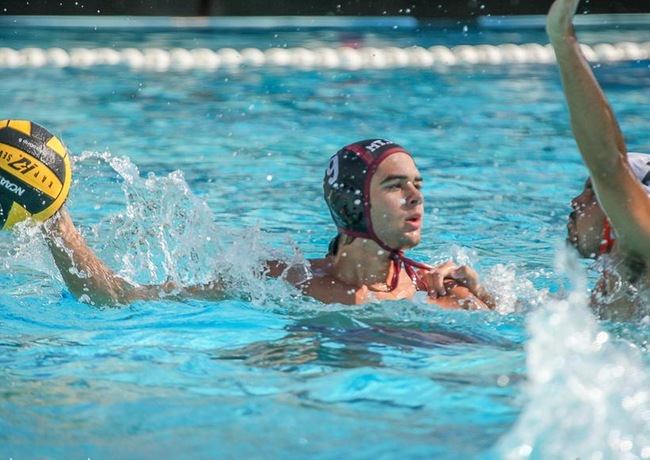 (Walnut, CA) The Mt. SAC Men's Water Polo team continued to play a tough, early-season schedule and fell to Riverside City College, 16-12, and NCAA DIII Ottawa University of Arizona (OUAZ), 16-14, (Friday (Sept. 10), at the Mt. SAC Mini Tournament at the Marie T. Mills Aquatic Center.
Mt. SAC (0-7) just came off of a tournament last weekend (Sept. 3-5) in Colorado Springs, CO that featured NCAA DI teams such as the Air Force Academy, Utah, and DIII Cal Lutheran.
"I've been trying to rationalize this whole 0-7 start to the season," Mt. SAC Men's Water Polo coach Marc Ruh said. "Cal Lutheran is the No. 4 NCAA DIII team in the country, Air Force is the No 15 DI team in the country right now and OUAZ is the No. 1 or 2 team in NAIA.
"They are in the same boat as we are. They've had time off as we've had, but they're upperclassmen. It's not that we're trying to justify where we're at, but we come in with so little experience. The last time every one of these guys (Mt. SAC team) played was in high school. Coming in and approaching this type kind of schedule is a (butt-kicker). All of them are true freshmen."
In the Mt. SAC Mini tournament on Friday, the Mounties faced OUAZ for the second time in a week. Mt. SAC lost, 18-11, in Colorado Springs.
"To be able to come out (Friday) and be up on them at least through the first half was big," Ruh added.
Ottawa University 16, Mt. SAC 14
Ruh was referring to the fast start Mt. SAC got off to against Ottawa University, leading, 4-1, midway through the first quarter.
Scoring two of those goals in the first minute was freshman utility, Luke Noblett.
"I think for this game, we started off really, really strong and just got tired and didn't finish out how we wanted to," said Noblett, who scored twice more in the game. "That comes later into the season as we get more endurance."
Each team scored three goals before the period ended, as Mt. SAC held a 7-4 lead.
Also getting into the action with three big early saves was goalie Kyle Leimbach, which got the team all pumped up.
"It's always exhilarating to watch a goalie just absolutely stuff someone," said Noblett, referring to Leimbach's first stop. "I feel like the goalies love it too. It gets them pumped up and gets their legs warmed up and they're ready to go."
Mt. SAC held a 9-7 lead at the half, as 2-Meter Aidan Murphy scored after a flurry of passes by the Mounties
Early in the third period, freshman utility Adam Dow gave the Mounties a three-goal lead, 10-7.
"We caught (Ottawa) by surprise a lot during the first half," Dow said. "They were talking to themselves a lot."
Dow also referred to the tournament in Colorado Springs and the environment and experience.
"It was a really good experience and we had a chance to bond together with each other," Dow said. "It was a great learning experience. We got smacked around by all of the teams. But, you don't learn unless you play against better competition."
After the Dow goal, OUAZ scored three consecutive goals in a little over two minutes to even the game at 10-10.
Mt. SAC's last lead of the game, 11-10, came on a turnaround shot by Noblett with just under a minute remaining in the third.
Twenty seconds later, Ottawa tied the game, 11-11, and in the fourth, they took the lead for good with three early goals. The Mounties stayed close but eventually fell by a pair of goals, 16-14.
Noblett and Dow led the team with four and three goals, respectively, in the game.
Murphy and driver Trevor Ingersoll each scored a pair of goals for the Mounties.
RCC 16, Mt. SAC 12
In the morning game against RCC, the Tigers took a 10-5 halftime lead and the Mounties couldn't catch back up the rest of the way.
Mt. SAC, trailing, 15-9, early in the fourth did have a brief rally scoring the first four goals, to close within three goals, 15-12.
"RCC was our first community college game of the year and didn't end how we wanted it to, but we still have a lot to work on," Noblett said
"It was one of our best games so far this season and when we meet them again we're going to beat them next time."
Noblett led with four goals, followed by Kurtz, Murphy, and Dow with two each.
The Mounties have a pair of road games on Wednesday (Sept. 15). At 3:00 pm they travel to L.A. Valley (0-4) and then have an evening game (7:00 pm) at Occidental (2-6).
Follow Mt. SAC Men's Water Polo on Twitter @mtsacaquatics
Follow Mt. SAC Athletics on Twitter @MtSAC_athletics or Facebook @Mountie.Athletics
For additional information, please contact the Mt. SAC Sports Information Office at 909.274.4630.