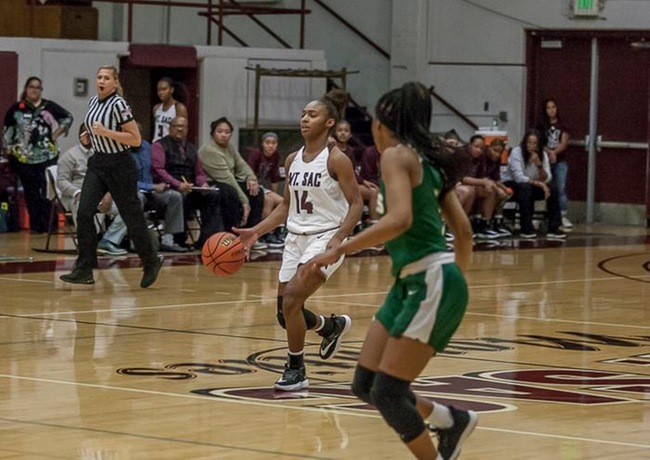 (Walnut, CA) A career-high 27 points by sophomore guard Aujane Mayes led the Mt. SAC Women's Basketball Team to a, 79-62, South Coast Conference (SCC) North win over visiting East Los Angeles College (ELAC) on Friday (Jan. 31).
Trailing by eight points (39-31) at halftime, the Mounties poured in 27 points in the third quarter to lead 58-51. The team never looked back and improved their overall record to 18-5 (3-0 in conference).
ELAC falls to 15-8 overall and 1-2 in conference. The Huskies were led Ryan Terry who had a game-high 29 points.
Mayes (9-15 FGM, 2-3 3PM, 7-12 FTM, 6 RB, 6 ASST, 2 STL), averaging 7.9 points per game, had a big second half, scoring 24 points.
Three other Mounties scored in double figures - Lauryn Manns (6-11 FGM, 4-9 FTM, 5 RB, 1 STL, 1 BLK), 16 points, Mina Guevera-Goss (4-8 FGM, 2-3 3PM, 3-4 FTM, 7 RB, 1 ASST, 4 STL), 13 points and Taylor Shelby (4-9 FGM, 2-6 3PM, 3-6 FTM, 7 RB, 1 ASST, 2 STL) also with 13 points.
Remy Hare (7-8 FTM, 6 RB) added nine points off the bench.
The Mounties travel to Pasadena City College Wednesday (Feb.5) for a SCC North game.
Follow Mt. SAC Women's Basketball on twitter @MtSAC_WBKB
Follow Mt. SAC Athletics on twitter @MtSAC_athletics or Facebook @Mountie.Athletics
For additional information, please contact the Mt. SAC Sports Information Office at 909.274.4630.