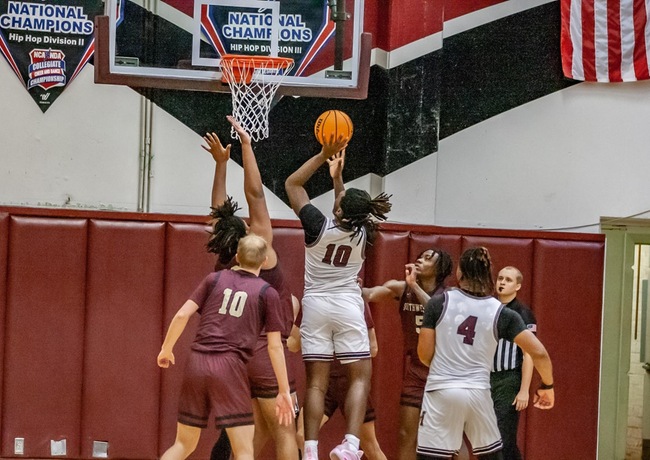 (Walnut, CA) After winning the PCC Tournament over a week ago, the Mt. SAC Men's Basketball team has lost two straight non-conference games.
The Mounties fell to visiting Southwestern College, 78-59, in a non-conference game on Wednesday (November 30).
The Mounties (4-4) trailed at the half by two, 36-34, but were outscored, 42-25, in the second half for the 19-point Cougar win.
Mt. SAC was led by freshman guard Nick Hopkins (7-9 FGM-A, 7-11 FTM-A, 7 RB, 1 Blk.) with 21 points, while sophomore guard Jay Milner (5-16 FGM-A, 5-5 FTM-A, 5 RB, 3 A, 3 Stl.) added 16 points.
The only other Mountie in double figures was sophomore guard LJ McClain (6-13 FGM-A, 3 RB, Stl.) with 12 points. Sophomore center Matthew Brown led with eight rebounds.
After the Cougars opened up with an 11-point, 19-8, first-half lead with nine minutes left, the Mounties outscored Southwestern, 26-17, to trail by a basket at the break.
Hopkins led Mt. SAC with 16 of his 21 points in the half.
In a game of runs, the Mounties trailed by 12 points, 54-42 with 12 minutes left in the second half, but came all the way back for the 54-54 tie with 12 consecutive points at the nine-minute mark.
Southwestern (5-4) finished off the Mounties by outscoring them 24-5 to end the game.
The Mounties continue with non-conference action this Friday (December 2), as they host Chaffey.
Follow Mt. SAC Men's Basketball on Twitter @MtSAC_MBKB
Follow Mt. SAC Athletics on Twitter @MtSAC_athletics or Facebook @Mountie.Athletics
For additional information, please contact the Mt. SAC Sports Information Office at 909.274.4630.