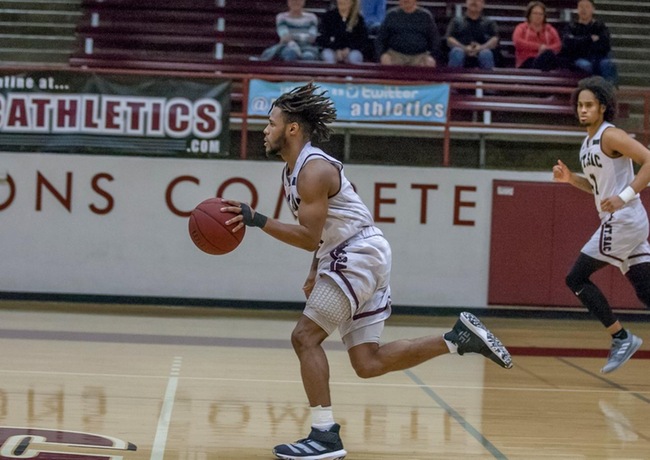 (Los Angeles, CA) The Mt. SAC Men's Basketball Team received double-figure scoring from all five starters, but still fell to host L. A. Southwest College in a South Coast Conference crossover game Friday (Jan. 10).
Leading the way for the Mounties was freshman guard Josh Jastrab (5-12 FGM, 3-4 FT, 4 RBs, 3 Assists, Stl.) with 14 points.
Gerald Jordan (7-10 FTM) followed with 13 points and a game-high 11 rebounds, while Agustin Fernandez (5-8 FGM, 2-4 FTM, 7 RB, 2 Blks) and Collin Reed (5-8 FTM, 10 RBs, 2 Assists) added 12 points each. Maliq Neurell (4-9 FGM, 2-3 3PM, 3 RBs, 5 A, Stl.) had 10 points.
Mt. SAC (4-13) held a 32-31 point first-half lead on 48% shooting and were led by Fernandez, with 10 of his 12 points in the game before the intermission.
The game was close for most of the second half before the Cougars opened up a seven-point, 58-51 lead with 5:30 remaining.
With less than four minutes in the game, Reed sank two free throws, followed by a jump shot from Neurell to close within, 61-57.
Each team traded points the remainder of the game for the final, 70-65 score.
Mt. SAC continues SCC crossover action with a game at L. A. Harbor Wednesday (Jan. 15).
Follow Mt. SAC Men's Basketball on twitter @MtSAC_MBKB
Follow Mt. SAC Athletics on twitter @MtSAC_athletics or Facebook @Mountie.Athletics
For additional information, please contact the Mt. SAC Sports Information Office at 909.274.4630.