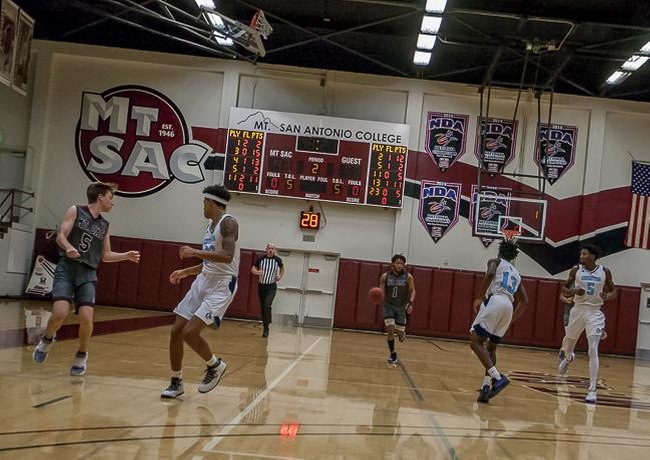 (Walnut, CA) A second-half rally by the Mt. SAC Men's Basketball Team fell just short to Cerro Coso, 85-82, in the Mountie Classic Saturday (Dec. 7).
Trailing by 11 points at the half, 52-41, the Mounties went on a 23-9 run to lead 64-61 midway through the second half. Highlighting the run was six points by Collin Reed and 11 by Gerald Jordan, including a 3-pointer for the 64-61 lead midway through the half.
The Mounties play one final game Sunday (Dec. 8) in the Classic, hosting Imperial Valley at 3:00 pm.
Jordan (10 for 17 FGM, 3-5 FTM, 13 RB) had a season high 24 points in the game, along with Kalique Mitchell (8-17 FGM, 6-13 FTM, 14 RB) with 22 points. Reed (8-14 FGM, 2-3 FTM, 4 RB, 3 Stls.) added 19 points and Maliq Neurell (5-10 FGM, 2-3 FTM, 3 Stls.) had 13.
"We were down a lot and just kept fighting," Jordan said. "I feel like we are slowly but surely finding our pace and are coming together as one."
Late in the game, the Mounties stayed with Cerro Coso, as Mitchell brought them within a basket, 75-73, with a layup with 3:26 left.
With thirty seven seconds remaining, Neurell scored on a driving layup and converted the free throw, to trail, 81-79.
After four free throws by the Coyotes to lead, 85-79, Neurell drained a 3-pointer with 10 seconds left to close to within three points, 85-82.
Follow Mt. SAC Men's Basketball on twitter @MtSAC_MBKB
Follow Mt. SAC Athletics on twitter @MtSAC_athletics or Facebook @Mountie.Athletics
For additional information, please contact the Mt. SAC Sports Information Office at 909.274.4630.