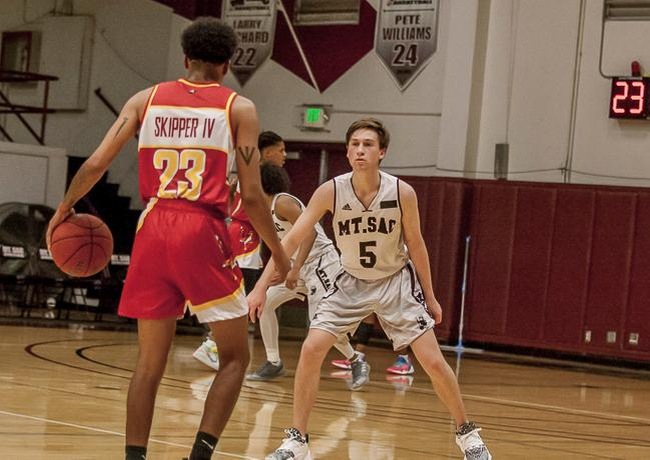 (Walnut, CA) The Mt. SAC Men's Basketball Team stopped a brief three-game losing streak with an 82-78 win over College of the Desert Friday (Dec. 6) in the opening game of the Annual Mountie Classic.
All five starters, for the first time this season, scored in double figures with Collin Reed (6 for 8 Free Throws, 6 Rebounds) and Gerald Jordan (4-4 FTM, 14 RB) leading the way with 19 points each.
Kalique Mitchell (5-6 FTM, 17 RB) had 15 points followed by Josh Jastrab (4-8 Field Goals Made, 13 Pts.) with four 3-pointers. Maliq Neurell (2-4 FTM) added 12 points.
"We finally played as a team again, and everything fell into place" Jastrab said. "I had to do my part." Jastrab leads the team with 19 3-pointers this season (19-42, 45%). "
The Mounties (3-6) will play Cerro Coso Saturday (Dec. 7) in game two action of the Classic.
"When we took the lead back, after being down six points, was a huge moment in the game," Mt. SAC coach Chris Oliver said. "They are all playing for each other right now and it was a good win."
Oliver was referring to the 56-50 COD lead at the 11:27 mark in the second half, followed by a 14-5 Mt. SAC run in 2:16 to lead, 64-59 with 9:11 remaining.
COD led only twice in the second half, including a late, 78-76 lead with :44 remaining in the game.
Reed completed a three-point play with a layup and a free throw for the 79-76 lead with :35 left.
Two more free throws by Reed and one by Jastrab sealed the victory for the Mounties.
"We all stepped up (Friday) and made the shots," Jordan said. "It feels good, we definitely needed this. We had to overcome a bump and can only go up from here." Jordan led all players with 15 first-half points.
Follow Mt. SAC Men's Basketball on twitter @MtSAC_MBKB
Follow Mt. SAC Athletics on twitter @MtSAC_athletics or Facebook @Mountie.Athletics
For additional information, please contact the Mt. SAC Sports Information Office at 909.274.4630.