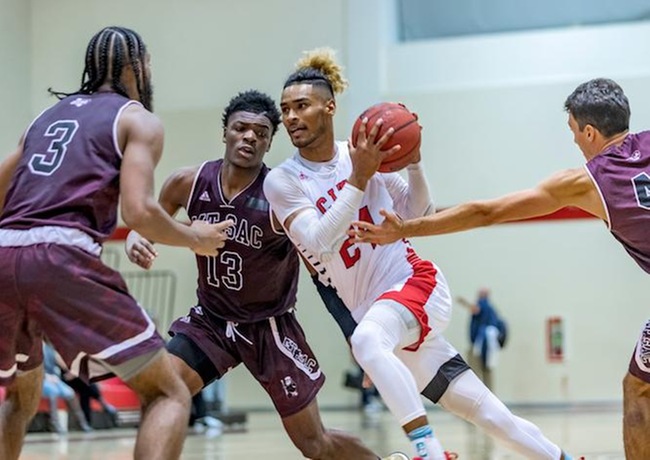 (San Francisco, CA) The Mt. SAC Men's Basketball Team opened its 2019-20 season on the road, competing in the Community College of San Francisco Tournament from Nov. 1-3. The Mounties dropped two out of three games.
---
CCSF 93 Mt. SAC 61
Adrian Ragland led Mt. SAC (0-1) with 15 points, but the state's top-ranked CCSF Rams (1-0) came out on top, 93-61. Kalique Mitchell and Sharodd Lewis added 14 points each for the Mounties.
Lewis (7 rebounds), Mitchell (5), and Agustin Fernandez (6) were the leading rebounders for Mt. SAC.
CCSF's Dale Currie led all scorers with 17 points.
---
Santa Rosa 68 Mt. SAC 59
Santa Rosa (2-0) overcame an eight-point halftime deficit to defeat Mt. SAC, 68-59, in the second round of the CCSF Tournament.
Top scorers for the Mounties (0-2) included Ragland (14 points), Lewis (13), and Mitchell (12). D'Shawn Harbor and Mitchell grabbed six boards each in the losing effort.
Shannon Ferguson scored a game-high 19 points for the Bear Cubs.
---
Mt. SAC 81 San Mateo 71
Mt. SAC (1-2) earned its first win of the season, 81-71, behind Raglund's 17 points against San Mateo (0-3) in the final round of the CCSF Tournament.
Collin Reed (14 points), Lewis (11), and Fernandez (11) rounded out the Mountie starters who scored in double digits, while Mitchell added 10 off the bench. Gerald Jordan led Mt. SAC in rebounds with five.
The Mounties will travel to Los Angeles Valley College to take on the Monarchs (0-0) on Saturday, Nov. 9, at 5 p.m.
Follow Mt. SAC Men's Basketball on twitter @MtSAC_MBKB
Follow Mt. SAC Athletics on twitter @MtSAC_athletics or Facebook @Mountie.Athletics
For additional information, please contact the Mt. SAC Sports Information Office at 909.274.4630.