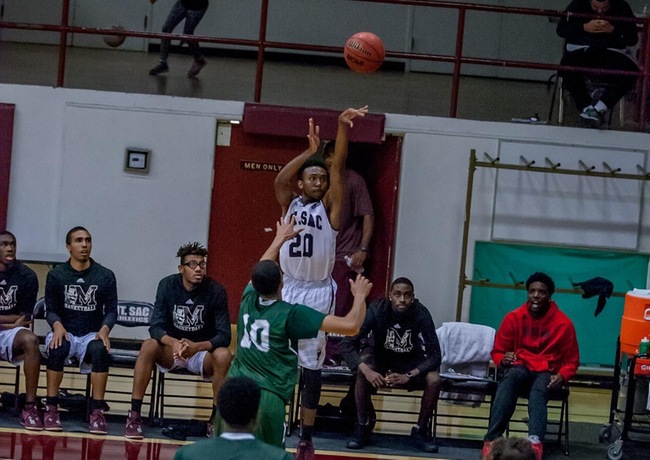 By John M. Sherrard
(Walnut, CA) After a tough last-second loss to Chaffey College in the conference opener on Wednesday, the Mounties turned the tables against East Los Angeles College, coming back from an 11-point deficit for the, 67-64, win over the Huskies on Friday night.
The win brings the Mounties record to an even 1-1 in the South Coast Conference (SCC) North Division play and a 8-11 overall record.
With eight seconds remaing in the game, guard Marc Howard Jr. (4RB, 2 steals) sank two free throws to put the game out of reach for East Los Angeles, at 67-62.
"This was a big win for us against a very good team," said Howard, Jr. who scored 15 points for Mt. SAC. "We've had a lot of slow starts but have to get rid of those. We always find a way to wake ourselves up and we know we're never out of it."
The Huskies got off to a 12-5 lead in the first half and built that lead to 41-30, with four minutes elapsed in the second half.
However, that's when the Mounties comeback began.
The Mounties went on a 17-4 run, taking their first lead of the game on a 3-point basket by guard Bryce Knox, with 11:51 remaining and never trailed again.
Leading the way off the bench for Mt. SAC was guard Darrell Williams (7 of 15 FG, 3 steals) with a game-high 19 points.
"We lost the first one (Chaffey) and had to refocus and try to get this one and we did," Williams said. "Coach (Head Coach Clark Maloney) lays out the game plan details and we just execute."
"It was fun to be out there and get the win," Williams added.
Williams with five 3-pointers and Howard with three 3-pointers combined for eight of the 10 Mounties 3-pointers.
Three Mounties, Corey Grant (4-4 FT, 8 assists), Josiah Yarde (3 RB) and Minfeke Sanoe (4-5 FG, game-high 11 boards) added eight additional points.
"This is a big-time win," Sanoe said. "This is the win that can turn our season around."
Mt. SAC continues SCC North action Wednesday, January 24, at Pasadena City College. Game time is 7 p.m.
Follow Mt. SAC Men's Basketball on twitter @MtSAC_MBKB
Follow Mt. SAC Athletics on twitter @MtSAC_athletics or Facebook @Mountie.Athletics
For additional information, please contact the Mt. SAC Sports Information Office at 909.274.4630.