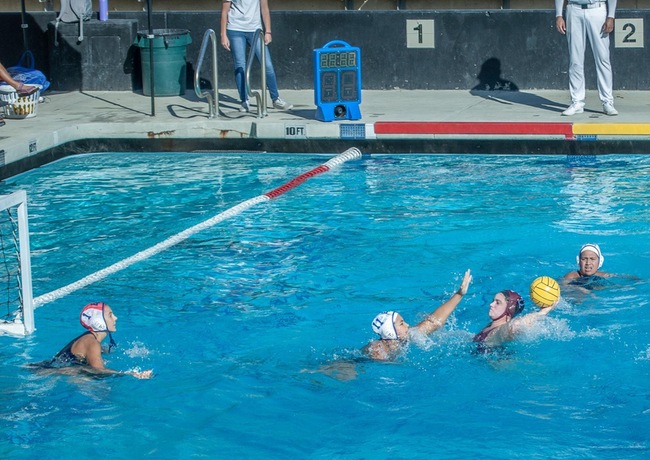 (Walnut, CA) Winners of five of the last eight games, the Mt. SAC Women's Water Polo team improved to 10-12 overall and a perfect 5-0 in the South Coast Conference, with a 9-1 win over visiting El Camino Wednesday (October 13).
The Mounties, tied with Long Beach City College atop the standings, were led by sophomore utility Katelynn Howell with three goals, followed by Madison Nicholas and Xen Allen with two each.
Goalies Kelly Jackson (8 SV) and Jahanna Palmer (6 SV) played two periods each for the Mounties.
The two keepers have split time during games this season.
"Me and "J" (Jahanna) have played together since high school," Jackson said. "We have our situation down pretty well and we switch quarter by quarter and can tell each other about who are the main shooters.
"It gives us a second to rest. It's definitely not something you see a lot, but me and J are pretty equal in our skillset and similar. It doesn't change the game a lot and it works out well."
In the first period against El Camino, Nicholas and Howell gave the Mounties a 2-1 lead with one goal each.
Only one goal was scored in the second by either team – Alexis Ramirez of Mt. SAC - to extend the halftime lead to 3-1.
The Mounties shut out El Camino in the second half, as Howell and Allen each scored a pair of goals.
Mt. SAC continues SCC action Wednesday (Oct. 20) at Cerritos. The Falcons are behind the Mounties in third place in the standings with a 3-1 record.
Follow Mt. SAC Women's Water Polo on Twitter @MTSAC_W_Aquatic
Follow Mt. SAC Athletics on Twitter @MtSAC_athletics or Facebook @Mountie.Athletics
For additional information, please contact the Mt. SAC Sports Information Office at 909.274.4630.