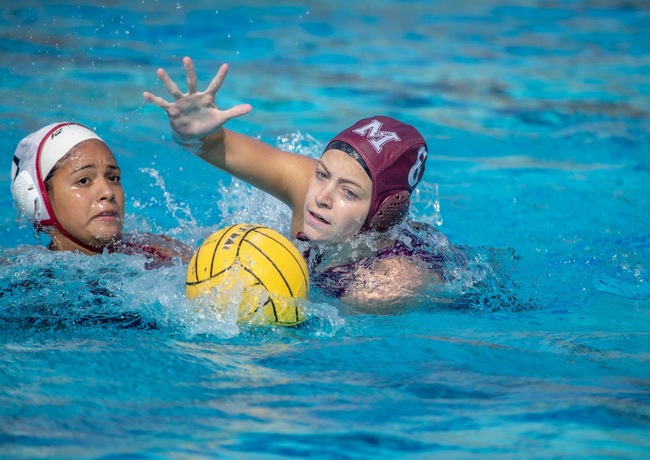 (Walnut, CA) With a six-goal first period, the Mt. SAC Women's Water Polo team went on to a 14-5 win over visiting Chaffey College in South Coast Conference action Wednesday (Sept. 29) at the Marie T. Mills Aquatics Center.
The Mounties (6-9 overall), who improved to a perfect 3-0 in the conference, scored three more goals in the second period to take a commanding, 9-3, lead at the half.
"A conference win is always a conference win and we're trying to be at the top of the conference," Mt. SAC Women's Water Polo Chris Jackson said. "Chaffey (1-5, 1-2) is in our area and we're kind of recruiting the same athletes, so that's always a good win to have."
After a tough preseason, it has prepared the team for a run through the SCC.
"They've seen some tough teams and I think we're going to be more prepared as we roll into these conference games," Jackson said. "We just have to keep playing at that level and keep that mentality."
Leading the way for the Mounties was freshman attacker Alexis Ramirez with a season-high five goals. Ramirez is second on the team with 20 goals.
"It feels good," said Ramirez, of the win. "I think it was that I got up on the counter a lot, this game specifically. They were able to make good passes.
"It's our third conference win in a row and playing a lot of tough early games made us better in the pool and to play at a higher level now."
Four players for the Mounties scored two goals each – Elizabeth Chong, Madeline Gaitan, Katelynn Howell, and Madison Nicholas. Grace Rowland scored the other goal for the Mounties.
In the third period, the Mounties put the finishing touches on the win with four goals, led by Ramirez with a pair of goals and single goals by Howell and Rowland.
Goalie Kelly Jackson made four saves in the game for Mt. SAC.
Mt. SAC takes a week off before its next conference game against Pasadena City College Wednesday (October 6).
Follow Mt. SAC Women's Water Polo on Twitter @MTSAC_W_Aquatic
Follow Mt. SAC Athletics on Twitter @MtSAC_athletics or Facebook @Mountie.Athletics
For additional information, please contact the Mt. SAC Sports Information Office at 909.274.4630.