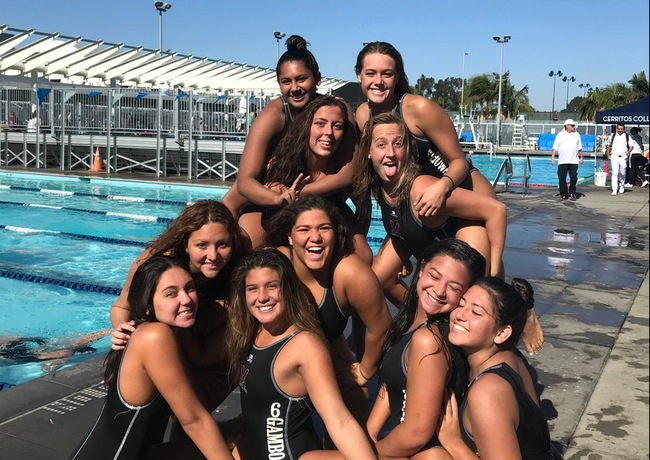 (Norwalk, CA) For the second time in a week, the Mt. SAC Women's Water Polo Team was defeated by conference rival Long Beach City College, ending the Mounties successful 22-win season. The 13-7 loss on Saturday, was the 3rd loss this season to the #4 seed Vikings and marked the fifth time the two teams have met in the post season, since 2013, when the Mounties won the South Coast Conference title.
The CCCAA Southern California Regional quarterfinal loss to the Vikings brought the No. 7-ranked Mounties' record to 22-6 overall. The So Cal's were hosted by Cerritos College.
"It was good, but I would have liked to come out ahead of Long Beach at least one of these games, especially (Friday) in the playoffs," Mt. SAC coach Chris Jackson said. "But to be top five in So Cal's with this group is a good job.
"For a small team, we had to battle and a lot of those girls had to play the entire game."
The Mounties were led with four goals from driver Miranda Silva (2 steals., 2 assists, block.) and single goals from utility Erin DeAnda (assist., 4 steals), driver Reannon Urias and driver Paulina Luna.
Goalie Kristi Mertins made seven saves.
The Mounties had a 4-3 lead, at the half, on three goals by Silva and a solo goal by DeAnda. That lead soon disappeared as the Vikings scored five goals in the third, against a single Mountie goal by Urias, for the 8-4 advantage heading into the final period.
The Vikings again put up a five-spot to put the game away. Mt. SAC scored twice on goals by Silva and Luna.
The Mounties finished the season with three players ranked top five in season statistics for the state. Silva and driver Rebekah Garcia were third and fifth in assists with 59 and 49 assists respectively, while Mertins had the third-most wins in the state with 22.
Leading the Mounties this season with goals scored was DeAnda with 86, which was eighth in state. That was followed by Urias with 71 (13th in state), Silva with 67 (19th) and utility Colleen Gamboa with 65 (25th).
In thefts, driver Kaitlin Howard led the team with 68 (7th in state), followed by Urias with 65 (8th), DeAnda , 60 (11th) and Silva with 58 (14th).
Two freshmen that will be back next year are drivers Janel Sepulveda and Brianna Baker. Gamboa is the only other freshman as the Mounties will lose seven sophomores.
Game Quotes:
Erin DeAnda – "For us to have beat them (Long Beach), we really had to play our best game. I'm not disappointed on how we played today (Saturday).
I had a lot of fun here at Mt. SAC and love the girls and the coaches. I'm going to miss it."
Kristi Mertins – "Being a small team we've been very close this year. We had that bond this year.
This game today was a little bit of a struggle, but we had them for the first couple of quarters."
Miranda Silva – "We really didn't know what to expect this season, but it turned out ok. It was a tough loss (Friday) but it was a great season for a small team.
We had a good connection with each other. We're more like a family than a team."
Reannon Urias –"It was really tiring, but I think we did really good for being such a small team. I'm kind of sad and it went by really fast, but I think I'm going to continue playing."
Follow Mt. SAC Women's Water Polo on twitter @MTSAC_W_Aquatic
Follow Mt. SAC Athletics on twitter @MtSAC_athletics or Facebook @Mountie.Athletics
For additional information, please contact the Mt. SAC Sports Information Office at 909.274.4630.