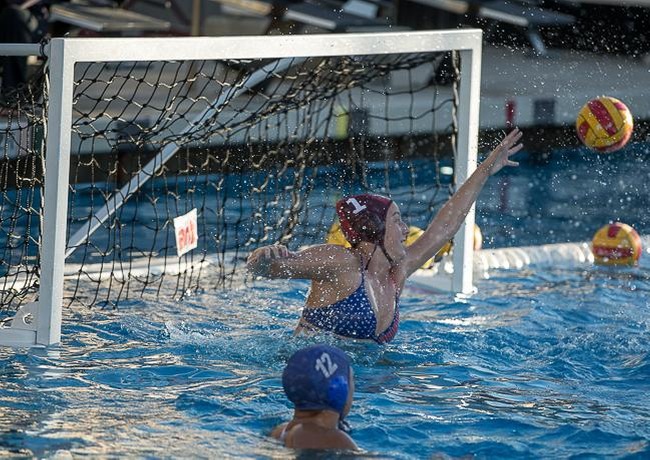 (Norwalk, CA) For the sixth year in a row, the Mt. SAC Women's Water Polo Team has advanced to the CCCAA Southern California Regional Quarterfinals, with a 13-8 victory over L.A. Valley College on Thursday (11/08), at Cerritos College.
"They (L.A. Valley) were a very good No. 12 seed," replied Mt. SAC Women's Water Polo Head Coach Chris Jackson. "They had a few close losses to teams ranked above them, including a one-goal loss to No. 2 Santa Barbara City College, so I expected a good game. It was close until the fourth quarter when we opened up our lead. That was a great game for Kaitlin (Howard)."
The Mounties (22-5, #5 seed) will now face South Coast Conference Champion Long Beach City College (LBCC)(16-9, 34 seed) this Friday (11/09) at 10:15 am. The Mounties last advanced to the semifinals in 2014, where they lost to Riverside City College.
This will be the fifth time the Mounties have faced LBCC in the post season since 2013.
Starting the final period, the Mounties held a slim 8-7 lead, but soon exploded for five consecutive goals, with Kaitlin Howard and Colleen Gamboa, scoring two goals a piece to put the game away.
Howard (2 steals) and Erin DeAnda (3 steals) led the Mounties with four and three goals, respectively.
Miranda Silva (4 steals) and Reannon Urias (2 steals) and Gamboa's (2 steals) each had two goals for the Mounties.
Mt. SAC goalie Kristi Mertins made 10 saves in the game.
Follow Mt. SAC Women's Water Polo on twitter @MTSAC_W_Aquatic
Follow Mt. SAC Athletics on twitter @MtSAC_athletics or Facebook @Mountie.Athletics
For additional information, please contact the Mt. SAC Sports Information Office at 909.274.4630.