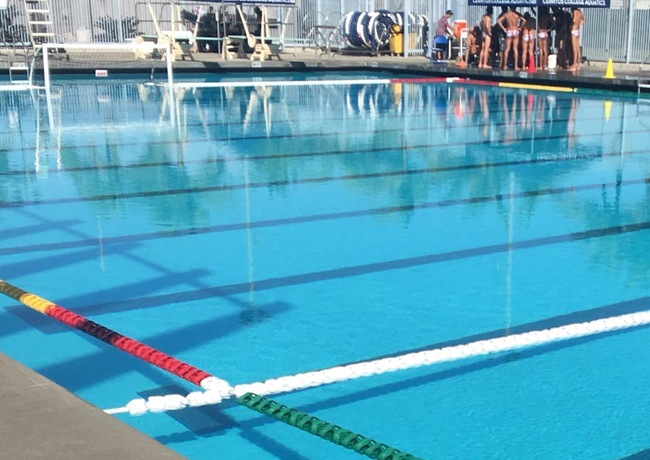 (Norwalk, CA) After winning the first two games in the South Coast Conference Championships, the Mt. SAC Women's Water Polo Team faced a familiar foe in the title game, the Long Beach City College Vikings.
LBCC made a late fourth-quarter comeback and defeated the State's No 9-ranked Mounties, 11-8 for the championship on Saturday November 3 at Cerritos College.
The victory was the fourth consecutive over the Mounties in the title game. Mt. SAC last won the SCC championship in 2013 over LBCC.
Mt. SAC (21-5) received the No. 5 seed and will play No. 12 seed L.A. Valley (16-9) in the single-game elimination So Cal Championships. Game time is 10:15 am at Cerritos College on Thursday November 8.
In the opening game of the SCC championships the Mounties defeated East Los Angeles College, 25-1 then held off Cerritos, 10-9 in the semifinals.
Colleen Gamboa led the Mounties with seven goals over ELAC.
In the semifinal win over Cerritos, the Mounties held a 7-5 lead at the half led by two goals each from Gamboa, Kaitlin Howard and Erin DeAnda.
The remaining seven goals in the game were traded back and forth by both teams, one at a time until Mt. SAC's Reannon Urias scored the game-winning tenth goal with fifty nine seconds left for a 10-8 lead.
Cerritos added a final goal and the Mounties held off the Falcons to advance to the title game.
In the championship game against LBCC, the Vikings took a 6-4 lead at the half, but the Mounties came roaring back in the third period with goals by DeAnda, Gamboa and Howard. They held Long Beach scoreless to take a 7-6 lead into the final period.
DeAnda scored her fourth goal of the game for the Mounties early in the fourth period for the 8-6 lead, but Long Beach's Sydney Brightenburg took matters into her own hands and scored five consecutive goals, to give the Vikings a come-from-behind win.
Leading the way in goals in the three games for the Mounties was DeAnda and Gamboa with 10 each, while Miranda Silva had seven, followed by Howard and Urias with five each.
Leading the team in steals was DeAnda and Gamboa with nine each, followed by Silva and Howard with seven and six, respectively.
Follow Mt. SAC Women's Water Polo on twitter @MTSAC_W_Aquatic
Follow Mt. SAC Athletics on twitter @MtSAC_athletics or Facebook @Mountie.Athletics
For additional information, please contact the Mt. SAC Sports Information Office at 909.274.4630.