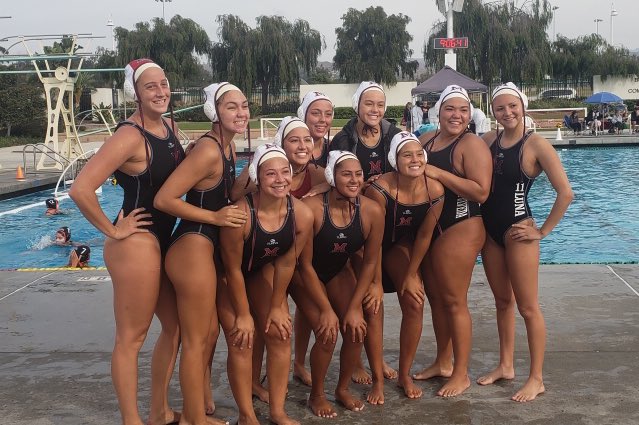 (Walnut, CA) With one game remaining in South Coast Conference action, the Mt. SAC Women's Water Polo Team defeated Chaffey College, 12-2 to remain in third place Wednesday afternoon October 10 at the Marie T. Mills Aquatic Complex.
After a scoreless first period, the Mounties outscored Chaffey, 6-1 in the second and went on to an easy win to improve to 16-2 overall and 5-1 in conference.
"This was a good win for us," Mt. SAC Women's Water Polo Team coach Chris Jackson said. "We shot nine times in that first quarter, but just didn't put the ball away. We out-played them (Chaffey) as they only had two attempts and the scoreboard just didn't show anything."
Mt. SAC will travel to Cerritos on Wednesday October 17 for the final regular season conference game.
Miranda Silva (4 G, 2A, 2 Stl.) and Erin DeAnda (4 G, 2 A, 6 Stl.) led the Mounties with three and two goals, respectively in the six-goal first second.
Colleen Gamboa added two goals for the Mounties.
"We were definitely expecting a good game (Wednesday)," said sophomore driver Reannon Urias, who had five assists and a steal.
"The first quarter we didn't do as well as I thought we should have. But in the second quarter we came back and scored. I feel really good about this team this year."
Follow Mt. SAC Women's Water Polo on twitter @MTSAC_W_Aquatic
Follow Mt. SAC Athletics on twitter @MtSAC_athletics or Facebook @Mountie.Athletics
For additional information, please contact the Mt. SAC Sports Information Office at 909.274.4630.