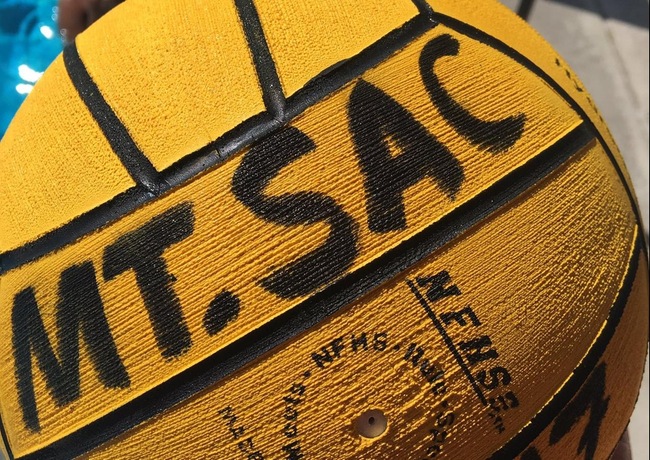 (Walnut, CA) With a dominating, 24-1, win over visiting conference foe Rio Hondo College on Wednesday, the Mt. SAC Women's Water Polo Team extended its winning streak to 12 games.
Sophomore driver Reannon Urias led the Mounties with six goals, followed by four each from Kaitlin Howard and Erin DeAnda (3 asst., 3 stl.). Driver Janel Sepulveda (1 asst., 1 stl.) added three goals and DeAnda also had a game-high eight steals.
Mt. SAC drivers Paulina Luna (1G, 5 asst.) and Rebecca Garcia (1G, 3 asst.) each added four steals.
The win improved the Mounties to a near-perfect 12-1 overall and 4-1 in conference.
A late first-period goal prevented Mt. SAC goalie Kristi Mertins from recording her fourth shutout of the season.
With eight goals in the opening period, the Mounties never looked back.
The Mounties have been averaging over 15 goals per game this season and this marked their highest goal output (24) in over six years.
Mt. SAC will take a break from conference action and will play in the Ventura College Tournament this Friday and Saturday, October 5th-6th. The Mounties will begin the tournament against Fullerton College, at 1:00 pm and host Ventura, at 3:10 pm.
Follow Mt. SAC Women's Water Polo on twitter @MTSAC_W_Aquatic
Follow Mt. SAC Athletics on twitter @MtSAC_athletics or Facebook @Mountie.Athletics
For additional information, please contact the Mt. SAC Sports Information Office at 909.274.4630.