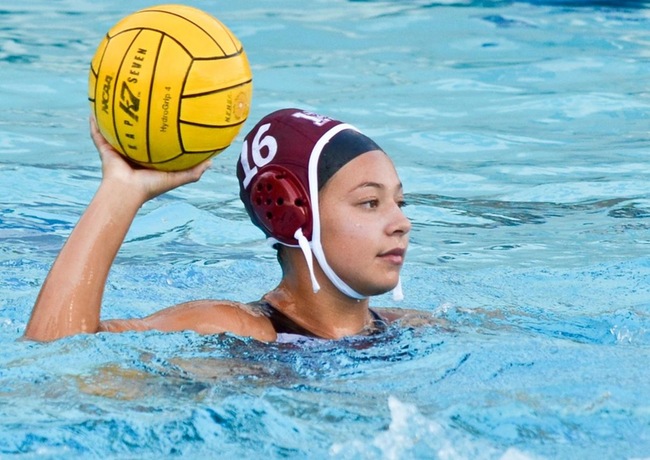 (Long Beach, CA) The Mt. SAC Women's Water Polo season, after a long summer of training, got underway with the Mounties falling to Long Beach City College 13-7 in South Coast Conference action.
After a close opening period with the Vikings leading 4-2, the Mounties trailed 9-3 at the half after being outscored 5-1 in the second period and.
However, the Mounties would play LBCC even the rest of the way with each team scoring four goals in the second half.
Leading the way for the Mounties (0-1) was freshman utility Colleen Gamboa (2G, 2A) and sophomore driver Reannon Urias (2G, Steal).
Adding goals were sophomores Miranda Silva (1G, 1 A, 3 Stl.), Erin DeAnda (1G, 1A, 2 Stl.) and Kaitlin Howard (1G, 1A). Howard led the team with four steals.
Urias scored twice in the second half to help the Mounties stay close with LBCC.
Pulling a double for both the water polo and volleyball teams was goalie Kristi Mertins (6 saves) on the day.
After playing in the afternoon game at Long Beach, the sophomore hustled back to Mt. SAC and saw action in the home win for the volleyball teams' three-game sweep of Glendale in the 6:00 pm game in the Mounties' gym. A true Mt. SAC athlete!!
The Mounties continue conference action next Wednesday September 12 as they host East Los Angeles. Game time is at 3:00 pm.
Follow Mt. SAC Women's Water Polo on twitter @mountie_polo
Follow Mt. SAC Athletics on twitter @MtSAC_athletics or Facebook @Mountie.Athletics
For additional information, please contact the Mt. SAC Sports Information Office at 909.274.4630.