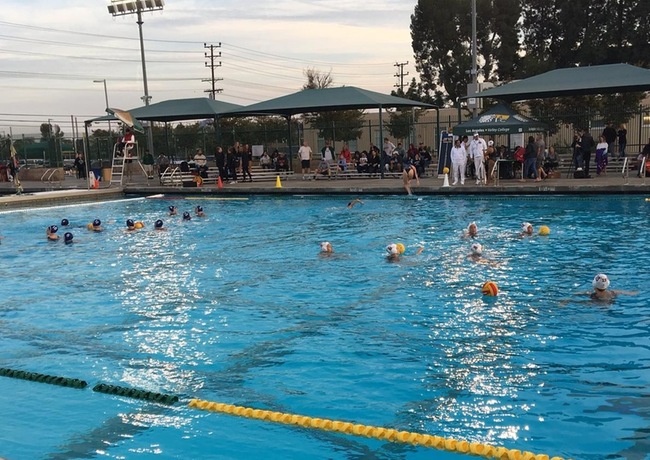 By John M. Sherrard
(Valley Glen, CA) The Mt. SAC Women's Water Polo Team defeated Cypress 7-3 in their opening game of the California Community College Athletic Association So Cal Regional on Thursday but fell short with an 8-4 loss to Orange Coast College in the quarterfinals on Friday November 10th.
With the loss to OCC, the Mounties ends a very successful season with a 21-8 overall record and 9-2 in the South Coast Conference, finishing behind Long Beach.
Two Mounties finished in the top ten in the state with 2-meter specialist Kayla De Herrera 7th in goals with 91 (36 steals). Along with goalie, Shelby Garcia who had 18 wins which was seventh in the state and she made 194 saves for 10th place.
Mt. SAC 7, Cypress 3
De Herrera led the Mounties with four goals and had three steals. Driver Miranda Silva (3 steals) started the scoring in the first minute for the 1-0 lead and the Mounties reeled off four more goals before the Chargers could get on the scoreboard.
Erin DeAnda (3 steals) also scored in the first period for the Mounties.
Garcia, who made 13 saves in the game and had three steals, shutout Cypress in the first half as the Mounties had a 5-0 lead.
Cypress scored only one goal in the 3rd period, followed by two more in the fourth, as De Herrera scored in the third and Christina Nunez finished the scoring for the Mounties in the last period.
Orange Coast 8, Mt. SAC 4
De Herrera led the Mounties with three goals and Garcia had three steals.
Mt. SAC took a 2-1 lead in the first period on goals by De Herrera and Reannon Urias but were outscored in the second, 3-1 and trailed at the half 4-3.
De Herrera scored the only goal of the third period at 1:53 to tie the game 4-4.
That was the last goal the Mounties would score as OCC took control of the game scoring four consecutive goals for the 8-4 final.
Follow Mt. SAC Women's Water Polo on twitter @mountie_polo
Follow Mt. SAC Athletics on twitter @MtSAC_athletics or Facebook @Mountie.Athletics
For additional information, please contact the Mt. SAC Sports Information Office at 909.274.4630.