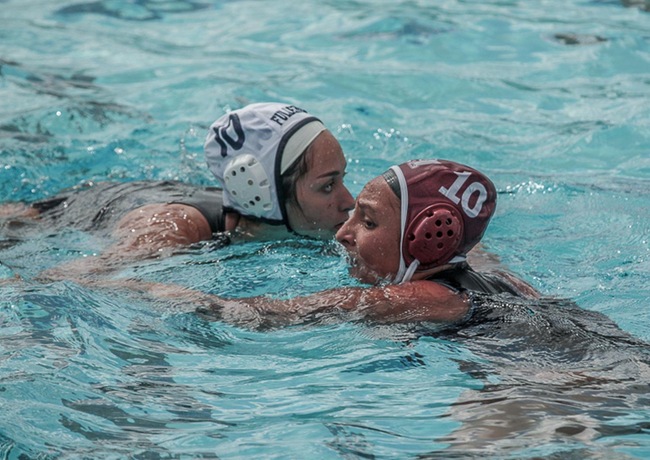 By John M. Sherrard
(Walnut, CA) The Mt. SAC Women's Water Polo team broke even in the annual Mountie Classic at the Marie T. Mills Aquatic Center Friday and Saturday with two win and two losses.
Sophomore 2-Meter Kayla De Herrera led the Mounties with 15 goals in the four games.
Mt. SAC 11, Fullerton 6
With six goals in the first period, three by De Herrera, the Mounties never trailed and cruised to a victory.
Freshman driver Reannon Urias added three goals, one in each of the first three periods. While freshman driver Miranda Silva led the team in steals with three. Mt. SAC having 14 total in the game.
Goalie Shelby Garcia had eight saves in the game.
Santa Barbara 16, Mt. SAC 6
De Herrera scored five of the six Mountie goals, all in the second half, as they were shutout in the first half.
Silva scored the other goal and had two assists.
Mt. SAC 7, Cypress 4
De Herrera and freshman utility Erin DeAnda scored two each and Silva, for the second time in three games led the team in steals with four. DeAnda added three steals for the Mounties. The Mounties had 15 in the game.
Tied 1-1 in the first period the Mounties doubled their lead to 4-2, behind two from DeAnda in the second period.
Cypress drew within one goal, 4-3, early in the third period, but sophomore attacker Clare Rowland extended the lead to two, 5-3, with 1:45 left in the third.
De Herrera and Urias each had a goal in the final period as the Mounties held on for the, 7-4 win.
Orange Coast 20, Mt. SAC 7
Silva and De Herrera scored three each for the Mounties. Sophomore defender Alexis Aguirre led the team with three steals.
The Mounties, behind two goals from Silva and one each from DeAnda and De Herrera, trailed by one, 5-4, after the first period.
However, the Pirates blitzed the Mounties for seven consecutive goals and held Mt. SAC to no goals for the insurmountable, 12-4, lead at the half.
The Vaqueros outscored Mt. SAC, 8-3, in the second half to win going away.
With the four weekend games the Mounties are now, 6-4, on the season.
Mt. SAC will continue South Coast Conference action on Wednesday at Rio Hondo for a 3:00 pm game.
Follow Mt. SAC Women's Water Polo on twitter @mountie_polo
Follow Mt. SAC Athletics on twitter @MtSAC_athletics or Facebook @Mountie.Athletics
For additional information, please contact the Mt. SAC Sports Information Office at 909.274.4630.