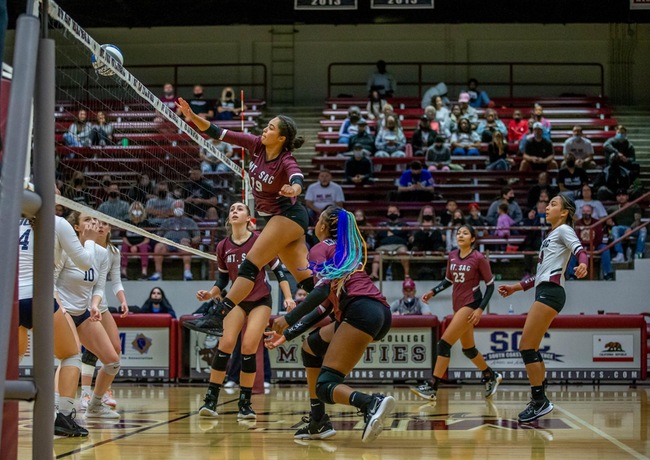 (Walnut, CA) After one of the most successful seasons in 10 years, the Mt. SAC Women's Volleyball team lost to visiting Orange Coast College, 3-2, Tuesday (Nov. 23), in Round 1 of the CCCAA Southern California Regional Championships.
It was a marathon, five-set match that saw the Mounties climb out of an 0-2 hole and bring it to a fifth and deciding set.
The final score was 22-25, 23-25, 25-15, 25-17, 9-15 and Mt. SAC finished the year with a 20-7 overall record, which is the best season since 2011.
"Obviously, we would have loved to make a long playoff run and I think we had the potential to (do that)," Mt. SAC Women's Volleyball coach Samantha Neely said. "This game (Tuesday) was super evenly matched. I think they really, really fought in this one.
Just when you thought the team was down, 2-0, and about to be swept, the Mounties responded in a big way in front of a large home crowd and dominated the third set and evened the match at 2-2 with another dominating win, 25-15.
"Totally, that is just what our team is," said Neely, referring to the teams' resurgence in the match. "We talked in the locker room after this game and the fact that we just put everything on the court, not only this game, but every single game in the season, says a lot about our character and our work ethic."
The early season success with their six consecutive home wins to start the season, gave the Mounties momentum and the large crowd support behind the all-freshman team.
"My final closing thought to the team was thanking them for bringing the excitement back to campus for volleyball," Neely added. "That is something you just can't put a price on and can't put into words.
"Although our season is done, I couldn't be more proud to say that this is my team."
And her team, without their leader (Riley DeGroot) in kills for the season out with an injury in the SCC Championship game against PCC, fought to the last set.
Leading the way for Mt. SAC was freshman outside hitter Allison Whiteman and freshman opposite Michelle Walters (5 Digs) with 16 kills each.
Freshman setter Ally Euston (3 Kills) saved her best and most productive game for last as she had a season-high 53 assists.
"We just had a really good batch of girls and everybody put in the work," Euston said. "We were down two sets and I think we were also down in the third set a little bit and came back. Everybody kind of buckled up and produced better.
"I definitely thought we would get this far at the beginning of the season, but it was nice to have it play out like that."
Also having her best match of the season was Walters, who stepped up when DeGroot went down.
With Mt. SAC trailing, 2-0 after two sets, and 10-5 in the third game, the team came alive and went on a 14-2 run to lead, 19-12. Highlighting that run was the serving of freshman outside JJ Quarrels (14 kills, 18 D, 2 Service Aces) with five winners in a row and back-to-back kills by Whiteman late in the run.
Walters finished off the set with a thundering kill to trail, 2-1 in sets.
In addition, freshman libero Riannel Arevalo had her best game of the season with her diving and rolling digs to save numerous rallies. She ended up with a season-high 51 digs.
Libero Bristol Christelman added 13 digs and middle Raeven Pugh had four kills for the Mounties.
The fourth set was an evenly played set as it went back and forth with neither team leading by more than two points until late in the set.
With a one-point, 13-12 lead, the Mounties finished off the set to tie it at 2-2, as they went on a 12-5 run.
Quarrels and Whiteman had two kills each, with Whiteman sending a big kill to the back of the court for the winner.
The fifth and deciding set started off with the Pirates taking a, 7-1, lead. Mt. SAC climbed back into the game, 10-8, but OCC finished with a 5-1 run for the victory.
Follow Mt. SAC Women's Volleyball on Twitter @MtSAC_WVB or Instagram /mtsacvolleyball
Follow Mt. SAC Athletics on Twitter @MtSAC_athletics or Facebook @Mountie.Athletics
For additional information, please contact the Mt. SAC Sports Information Office at 909.274.4630.