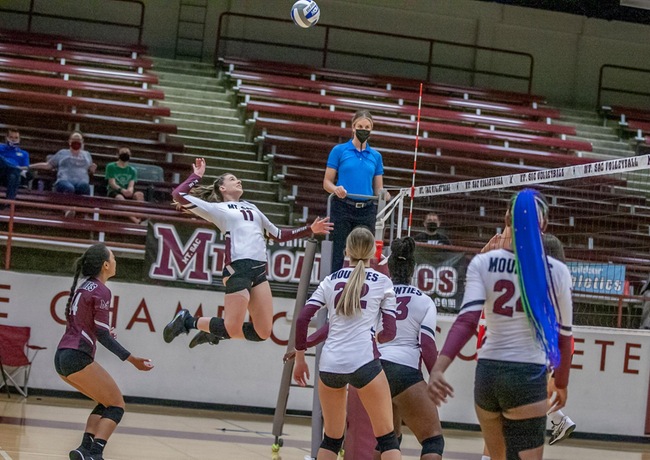 (Walnut, CA) The Mt. SAC Women's Volleyball team won its fourth consecutive match in a row, dropping only one set along the way, with a 3-0 sweep over visiting College of the Desert Wednesday (Sept. 8).
The Mounties won 25-20, 25-19, 25-18 over the Roadrunners (1-2) and improved to 5-2 overall in non-conference action.
'We have a really special team as far as chemistry goes," Mt. SAC Women's Volleyball coach Samantha Neely said. "I think that the one common thing that we automatically shared the first time we stepped on the court is just a huge passion for the game and a competitiveness to win at all cost."
That chemistry showed again Wednesday, as the Mounties won their fourth match out of five wins with a sweep of their opponent.
With 37 kills as a team, outside hitters Riley DeGroot (1 Service Ace) and JJ Quarrels (7 Digs, 2 SA) each had 10 kills to lead the Mounties. De Groot also led with 11 digs in the game.
"Being a first-year college experience is great," Quarrels said. "I love our team's chemistry and energy."
Quarrels spoke of the very good defense that Desert brought to the three sets.
"It was a little frustrating with them getting every single ball back," Quarrels said. "But at the end of the day, we kept pushing and running new things and we ended up putting it away."
Very active upfront with a team-leading 17 assists was setter Ally Euston (3 SA, 2 Digs, 1 K), along with 11 from setter Kylie Rhodes.
In the first set, with the Mounties trailing early, 10-7, they outscored COD, 7-3 and took their first lead since early in the set, 14-13.
DeGroot gave them that lead with a kill and they would not relinquish it the rest of the way. She finished off the win with a kill.
In set No. 2, with a one-point Mountie lead, 10-9, Christelman was serving for four consecutive points and a 14-9 lead.
Mt. SAC never looked back and Quarrels finished it with a kill to give the Mounties a 2-0 set lead.
In the third set, which went back and forth up to a 15-15 tie, opposite Michelle Walters had a kill to give the Mounties the one-point lead, 16-15.
Another good service streak, this time by Euston with six straight points, gave the Mounties an insurmountable, 23-16 lead that eventually ended the match.
Euston, along with the rest of the team in agreement, was again elated with the crowd support from some of the other Mt. SAC teams at the matches this season. Even a shirtless contingent of the men's water polo team led the charge.
"We've had a lot of sports teams here," Euston said. "We've had the (women's) basketball team, the football team, the baseball team and we had water polo this time.
"I think we have all bonded and we have a really deep roster and anybody can go in and do their job and continue to win."
Outside hitter Allison Whiteman (8 Digs) and Walters added six and five kills, respectively. Bristol Christelman also contributed with eight digs for the Mounties.
Mt. SAC will host El Camino (2-6) Friday, September 10.
Follow Mt. SAC Women's Volleyball on Twitter @MtSAC_WVB
Follow Mt. SAC Athletics on Twitter @MtSAC_athletics or Facebook @Mountie.Athletics
For additional information, please contact the Mt. SAC Sports Information Office at 909.274.4630.