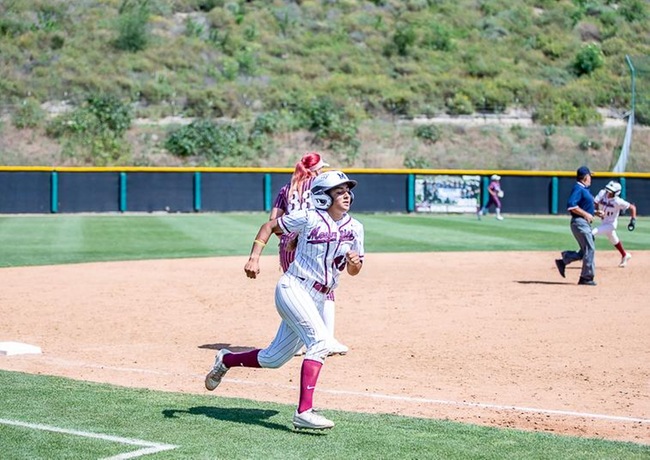 (Walnut, CA) After going hitless for only her third game of the season on Thursday (April 14), Mt. SAC's Brianna Goris came back with a vengeance the next day (Friday, April 15).
The freshman first baseman ended the game against visiting Antelope Valley College with her 14th home run of the season, for the 10-0 non-conference win in six innings.
With the win, the Mounties improved to 32-3 overall.
Goris, who leads the state in home runs and batting average (.579), knocked in shortstop Ariana Coronado (3 for 4, 2 R) and freshman second baseman Asia Chacon (1 for 2, R, RBI, Sac fly) to end the game.
"Honestly, I think we do a really good job of putting pressure on a lot of defenses," Goris said. "I think we like to jump on a lot of pitches early and just score.
"That one (home run) felt amazing. I'm just going to just keep it simple and hopefully, it works out."
Goris (2 for 4, R) knocked in five runs for the second time this season and also had a two-run double in the fourth inning for the 6-0 Mt. SAC lead.
The second Mountie with three hits was sophomore catcher Mireya Amezcua (3 for 3, R, 3 RBIs).
"No matter who we play, we are going to go at them hard from the first pitch to the last pitch," said Amezcua, who has a .353 average. "I was just telling myself to be on time (with her batting) and hit it hard somewhere."
Sophomore right fielder Mikenna Barcelona (2 for 2, R, RBI) had two hits and singled in Desiree Bravo (R, SB) in the third to give the Mounties a 4-0 lead.
The Mounties are taking a week's break and will get back to action when they host Long Beach City College on Friday (April 22) for a South Coast Conference game.
Follow Mt. SAC Softball on Twitter @mtsac_softball
Follow Mt. SAC Athletics on Twitter @MtSAC_athletics or Facebook @Mountie.Athletics
For additional information, please contact the Mt. SAC Sports Information Office at 909.274.4630.