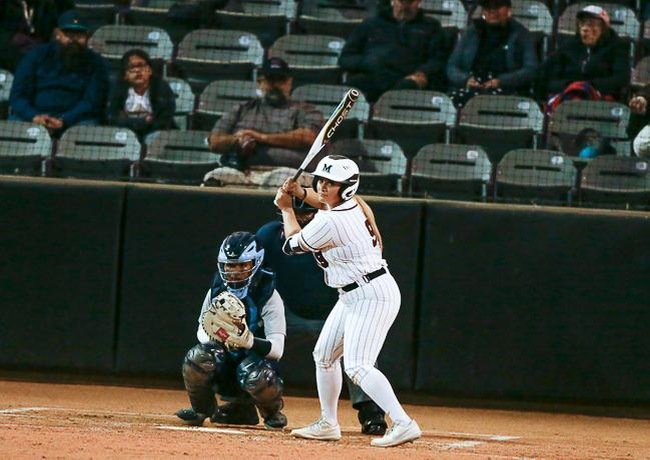 (Walnut, CA) For the second game in a row, the Mt. SAC Softball team scored six runs in the first two innings and went on to defeat visiting El Camino College, 12-3, in five innings in a South Coast Conference game on Thursday, Feb. 17.
The victory was the ninth straight to start the season which improves the Mounties to 9-0, 5-0 in the conference.
Leading the way with a walk-off, two-run home run in the fifth inning, was sophomore shortstop Ariana Coronado (1-2, 2 R, 3 RBIs, SAC Fly). Sophomore pitcher Grace Pieson picked up the win, allowing only three hits and striking out four batters.
"I really started working on my mentality and confidence this year," Pieson said. "Definitely having this team this year where everyone is so selfless and has started working together is special.
"Having that Fall season really helped and we're like a family and it really helped boost my confidence. Also, starting fast like we have the last couple of games really helps."
Second baseman Asia Chacon (3-4, HR, Dbl, 2 R, 2 RBIs, SB) led the team with three hits, while Alyssa Castaneda (2-3, R, RBI) and Emily Barba (2-3, R, RBI, SB) had two hits each.
Eight players had at least one RBI in the game.
Chacon started the four-run, first inning with a home run, followed by solo RBIs from Castaneda, Ashley Diaz (1-3, R, RBI, Dbl.) and Barba.
The Mounties added five runs in the next two innings and three in the fifth, highlighted by Coronado's home run.
Mt. SAC will play a non-conference game Tuesday (Feb. 22), as they host L.A. Mission. The game time is 5:00 pm.
Follow Mt. SAC Softball on Twitter @mtsac_softball
Follow Mt. SAC Athletics on Twitter @MtSAC_athletics or Facebook @Mountie.Athletics
For additional information, please contact the Mt. SAC Sports Information Office at 909.274.4630.