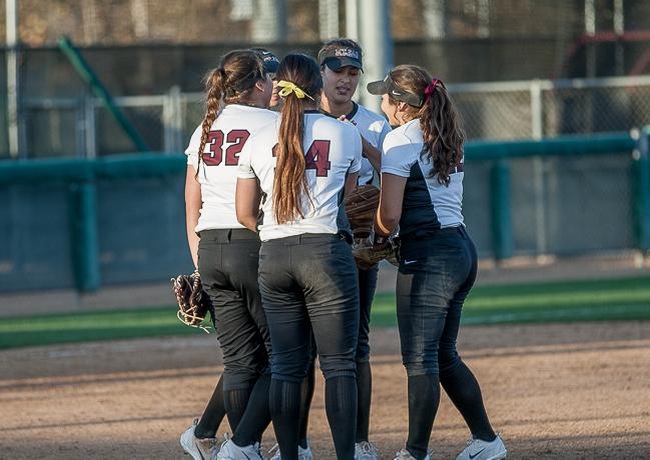 (Walnut, CA) Trailing in the sixth inning, the Mt. SAC Softball team scored three times to hold on for a 4-3 win over El Camino College.
The Tuesday afternoon contest was the Mounties fifth victory in a row and the first game of South Coast Conference (SCC) play. The Mounties improved to 6-1 overall and 1-0 in the SCC North.
Shortstop Carissa Felix (2 for 3, R, RBI, Dbl.) and third baseman Vicky Gutierrez (2-3, R, Dbl.) led the Mounties with two hits each, while in the circle, Briana Wheeler (5 Ks) went the distance to pick up her fifth win.
With El Camino leading 2-1 in the top of the sixth the Mounties answered with three runs. Designated player Michelle Banales (1-3, RBI) singled up the middle, sending in Gutierrez who doubled to open the inning.
With the score tied 2-2 and runners on second and third, Felix doubled in catcher Jackie Olvera (1-2, R, BB) and pinch runner Nikki Soto for the 4-2 lead.
With two outs in the seventh, the Warriors closed to within a run on a solo home run, but the closed the books on the next batter after a nice catch in left field by Jada Reyes (1-3).
The Mounties, who stand atop 45 teams in the RPI standings in Southern California, will host a double header this Saturday.
They will face Riverside City College (RCC) at 2:30 p.m. and will play Sierra College at 7:30 p.m. In between the two Mt. SAC games, RCC and Sierra face each other at 5:00 p.m.
Follow Mt. SAC Softball on twitter @mtsac_softball
Follow Mt. SAC Athletics on twitter @MtSAC_athletics or Facebook @Mountie.Athletics
For additional information, please contact the Mt. SAC Sports Information Office at 909.274.4630.