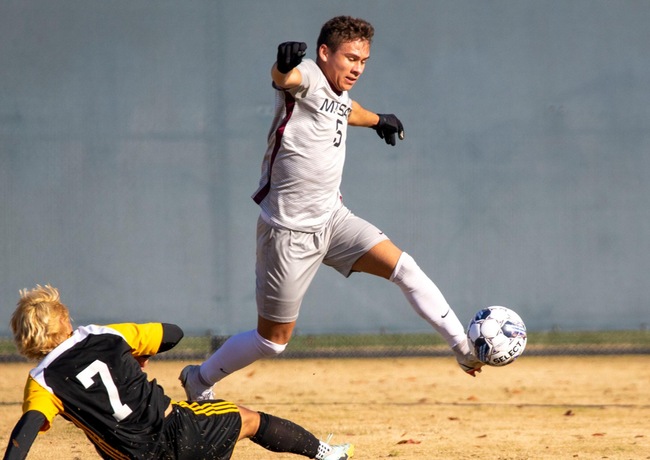 (Sacramento, CA) For the 11th time in the last 13 CCCAA State Championship tournaments, the Mt. SAC Men's Soccer team has advanced to the title game.
The No. 2 South Seed Mounties, who have won six championships, defeated No. 1 North Seed Taft, 1-0, in the state semifinals at American River College on Friday, December 2.
With the win, Mt. SAC improved to 17-6-2 overall and will face South No. 1 Seed Oxnard (21-1-1), a 1-0 winner over North No. 2 Seed Merced in the other semifinal game. Game time is 3:30 pm on Sunday, December 4.
"We're definitely excited about being here again," said Mt. SAC Men's Soccer coach Juan Sanchez. "It's a privilege to be here (state championship game) and it's a great opportunity for our players. It's just been a great year for our players."
The Mounties, the defending state champion, defeated Oxnard, 3-0, earlier in the season handing the Condors their first loss of the season at the time.
With the only goal of the game just before the end of the first half in the 45th minute, was sophomore forward Andrew Vazquez, his 14th of the year, scoring from the edge of the penalty box. The goal was the second of the playoffs for Vazquez.
The shot, Mt. SAC's only shot on goal of the game and eight of the game, went into the right corner of the net.
Mt. SAC sophomore goalkeeper Jacob Cardenas, who recorded his 11th win of the season and seventh shutout, faced three shots on goal in the game. Taft had seven shots in the game.
Taft, which won its only state title in 2007, had a scoring chance in the 82nd minute with a shot after an Mt. SAC foul. The shot went to the right of the goal.
CCCAA Men's Soccer Release - https://www.cccaasports.org/sports/msoc/2022-23/releases/MSAC-Taft
Follow Mt. SAC Men's Soccer on Twitter @MtSAC_MSoccer
Follow Mt. SAC Athletics on Twitter @MtSAC_athletics or Facebook @Mountie.Athletics
For additional information, please contact the Mt. SAC Sports Information Office at 909.274.4630.