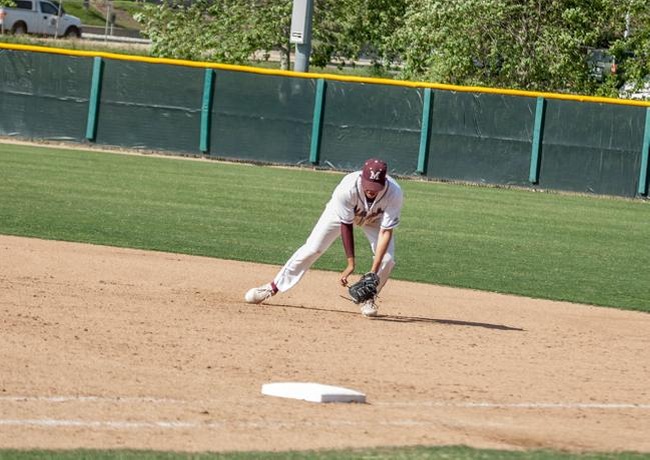 (Walnut, CA) Following a come-from-behind extra inning win over Citrus (on Tuesday), Mt. SAC defeated the Owls (14-19-1) in the second game of the series, 8-2. The Mounties (20-16) scored early in the rematch and never trailed en route to the non-conference win on Thursday, at Art Mazmanian Field, giving them a 4-game win streak.
The Mounties led, 4-0, before Citrus got on the board with a run in the top of the fifth. Mt. SAC responded with two in the bottom of the same inning, then added another pair in the seventh.
Mason Campbell (2-for-3, RBI, R, 2B, 3B), Tyus Santa Anna (2-for-4, 2 R, SB), Jacob Dominguez (1-for-3, RBI, R, 2B) and Kyle Koontz (1-for-4, RBI, R, 2B) were instrumental in the Mounties' offensive attack. Christian Heflin added a pair of stolen bases for Mt. SAC.
Starter Noah Woodall (3-0) got the win for the Mounties, throwing three scoreless innings.
Mt. SAC returns to South Coast Conference action and will travel to East Los Angeles (15-20-1, 8-10-1) on Tuesday, April 23, at 6 p.m. This will be the first of a three-game series that will wrap up both teams' regular-season and SCC schedules. The series switches to Mt. SAC on Thursday, April 25, at 6 p.m. and then concludes at East L.A., on Friday, April 26, at 2:30 p.m.
The Mounties have won five of their last six agames and are presently first in the South Coast Conference (SCC) North Division, with a 12-7 conference record.
Follow Mt. SAC Baseball on twitter @mtsac_baseball
Follow Mt. SAC Athletics on twitter @MtSAC_athletics or Facebook @Mountie.Athletics
For additional information, please contact the Mt. SAC Sports Information Office at 909.274.4630.