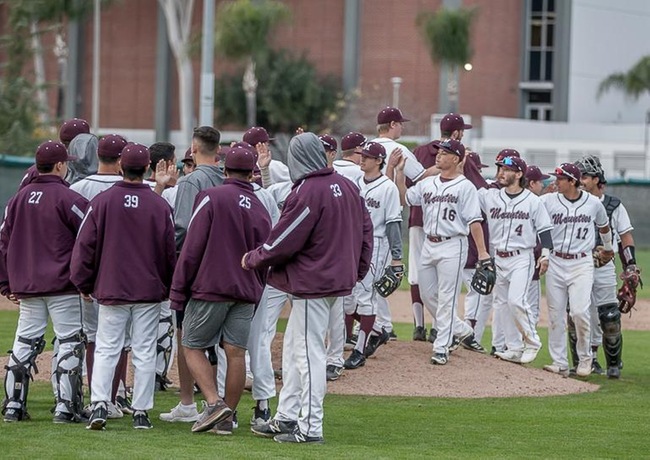 (Costa Mesa, CA) Mt. SAC (5-5) and Orange Coast (8-1) suited up for a non-conference twin bill in Costa Mesa on Friday to kick start their President's Day weekend. In the opening contest, the Pirates captured a 13-6 win while the Mounties returned the favor in the second game with a 4-2 victory in eight innings.
Game 1
Michael Sandoval (1-for-2), Mason Campbell (1-for-1), and Albert Luevano (1-for-5) each had doubles for Mt. SAC, while teammate Derek Zavala (1-for-2) had a triple.
Christian Heflin (1-for-2), Omar Veloz (0-for-2), Zavala, and Christian De La Herran (0-for-1) each had an RBI for the Mounties.
Starter Jacob Kampen (2-2) got the loss for Mt. SAC, throwing 4.1 innings and allowing nine runs, seven of which were earned.
Alex Gonzalez , Caleb Eills , Micahel Rosales , Jacob Dominguez each had a stolen base for the Mounties.
Game 2
Starting pitcher Wyatt Regis (1-0) earned the victory in the second game for Mt. SAC, pitching five innings, striking out three, and allowing one earned run. Steven Ordorica came on in relief and got his first save of the season, throwing two scoreless innings to preserve the win.
Dylan Zavala led the Mounties' offense, going 2-for-4 with a triple, an RBI, and a run scored. Campbell (1-for-3) and Ellis (1-for-2) also had RBIs in the winning effort. Sandoval (1-for-4) had a double and Luevano stole a base for Mt. SAC.
The Mounties will play at Mt. San Jacinto (2-8) in a non-conference matchup on Saturday, Feb. 16, at 12 noon.
Follow Mt. SAC Baseball on twitter @mtsac_baseball
Follow Mt. SAC Athletics on twitter @MtSAC_athletics or Facebook @Mountie.Athletics
For additional information, please contact the Mt. SAC Sports Information Office at 909.274.4630.