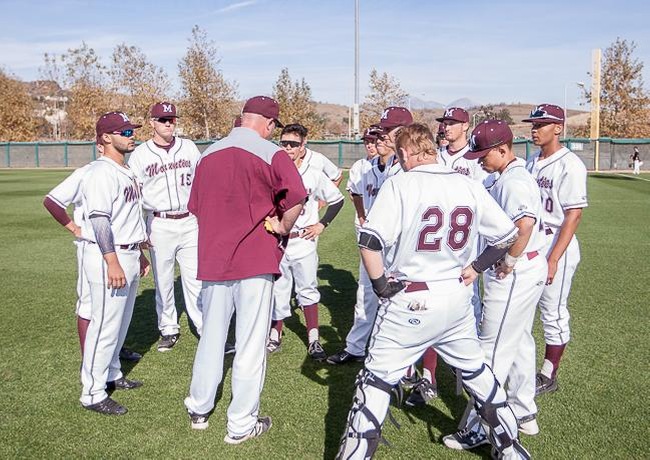 (Walnut, CA) Mt. SAC relief pitcher Charlie Verrone came in with the bases loaded, two outs in the sixth inning to halt the Hornet rally as the Mounties went on to shutout Fullerton College 4-0 in a nonconference game at Mazmanian Field Tuesday night.
After five-plus innings of two-hit baseball by Mountie starter Wyatt Regis, Verrone shut the door on the Hornets and Mt. SAC broke a scoreless tie an inning later with a run.
"I was a little more pumped up than I should have been," said Verrone, who was at Butler University last season as a position player.
"With the bases loaded and two outs I just calmed down and just said they're not going to hit me."
"I threw my cutter like a fastball that moved and he popped it up and I couldn't be more excited."
With the Fullerton pitcher throwing a no-hitter into the seventh inning, Mt. SAC's Ryon Knowles (5.2 inn., 4 Ks) came through with the first hit of the game for the Mounties with a single up the middle.
Mt. SAC third baseman Michael Sandoval, who reached on a hit batter and stole second, advanced to third on Knowles' hit and came home for the first run after a fielding error by the Fullerton centerfielder.
"Their pitcher was throwing a pretty good game," Knowles said. "I managed to fight off a lot of pitches and get a mistake and took advantage of it."
The Mounties went on to score three more runs in the eighth for the 4-0 lead and improved to 2-1 on the season.
In the eighth, Sandoval singled in center fielder Manny Galvan and the final two runs came off a two-base error by the Fullerton second baseman, scoring Elijah Greene and Sandoval.
"That was a good baseball game and Wyatt made his first collegiate start," Mt. SAC Head Coach John Knott said.
"He (Regis) was a little bit nervous early on but he made big pitches when he had to."
Knott also praised Verrone (5 Ks) for his performance in the last three innings.
"He came in and shut the door and really didn't slow down and made tons of big pitches. He throws with a lot of energy and emotion."
"I'm real proud of him (Verrone) as this is his first year coming in full time and just pitching, he has done a great job."
Mt. SAC will host Mt. San Jacinto on Thursday at 6:00 p.m.
Follow Mt. SAC Baseball on twitter @mtsac_baseball
Follow Mt. SAC Athletics on twitter @MtSAC_athletics or Facebook @Mountie.Athletics
For additional information, please contact the Mt. SAC Sports Information Office at 909.274.4630.